What is Dinner Theater?
We're back! The past year has been hard, and we made adjustments to make Dinner Theater a success! We couldn't have done it without you! Dinner Theater is our biggest fundraiser for our youth group. The money raised helps our students able to attend various conferences, retreats and missions. (i.e. Reality Apologetics, Local Missions, Districts, Challenge, etc.)
This year we will be doing the full live performances, auction, dinner & dessert!
The Performance: Money Talk$
Friday, March 4th & Saturday, March 5th
Doors open 4:30pm - Come enjoy some appetizers and check out the Silent Auction!
Show starts 6:00pm
Play: Money Talk$ - Written by: Michal Jacot
Director: Liz Jost
Assistant Director: Andrea Pettys
Synopsis: Adam Cogswell is a likable guy whose meager paycheck often makes him "financially challenged." It doesn't matter to Adam's family and friends, who like him for who he is, but it's a thorn in Adam's side. Then he meets an eccentric billionaire, Mr. Pierpont, who makes Adam the bet of his life: if Adam can start with a dollar and keep doubling it until he reaches a million dollars, Pierpont will match whatever Adam has accumulated! What follows is a hectic pursuit by Adam to win the bet while his friends, try and show him what he is giving up during that pursuit.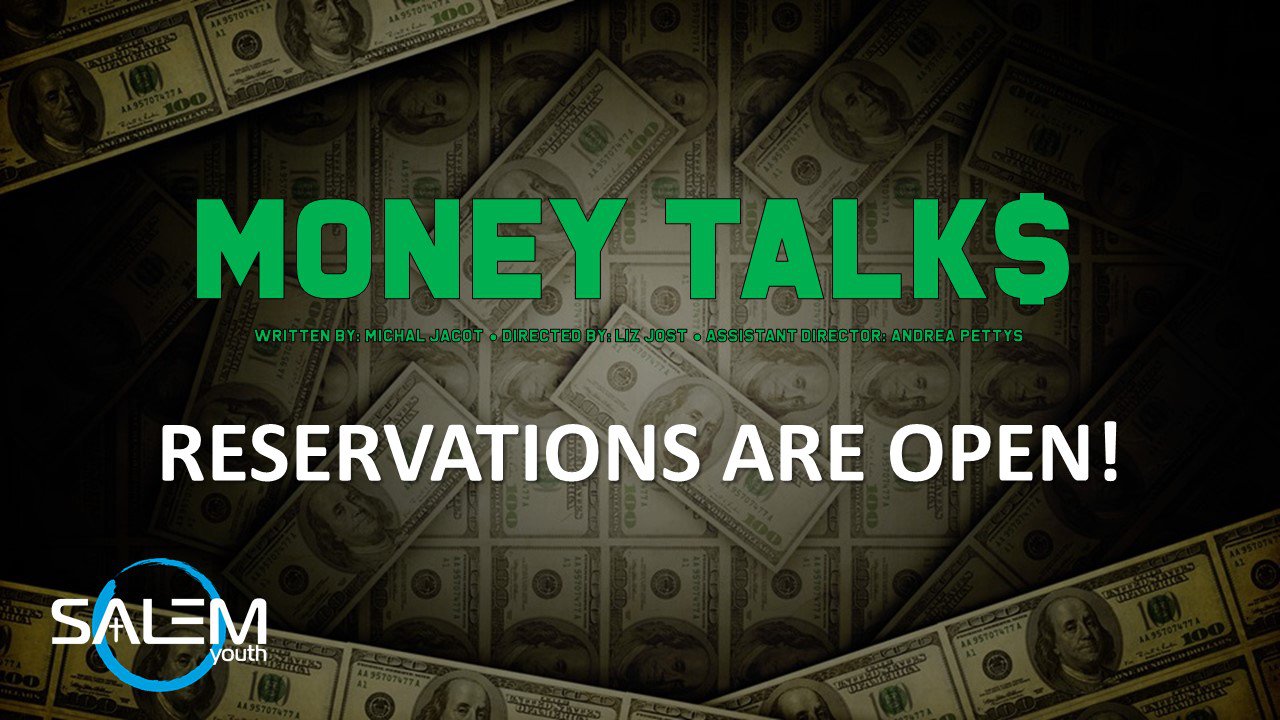 The Silent Auction
A portion of the night is dedicated to our Silent Auction. Come early to check out the offerings! All bidding will be done through mobile devices. We will have people to assist you to make the auction as enjoyable as possible! More information will be posted as we get closer to our event! Thanks for your patience!
Want to Donate Items for Our Silent Auction?
Volunteer with us!
Dinner Theater is only a success with the help of our students and families! Hours volunteered by students, parents & friends can help offset costs for students wanting to attend upcoming events such as Districts, Local Missions and Challenge. Click the link below to sign up! More volunteer slots will be added in the next few weeks!
If you have any questions, contact Angela Hawkins